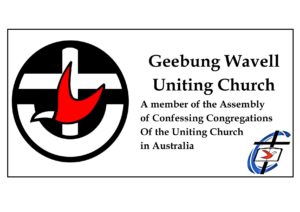 We would love to have you join us at any of our services and special events.
Looking for lasting peace, forgiveness, guidance, or unconditional love?
Come along and see what Jesus did for you.
He is the answer.
Wavell Heights Uniting Church
has been part of the community for 80 years
Geebung / Wavell Uniting Church are two well established churches situated just north of Brisbane City. We have a rich history of community involvement, which we have continued through our generous caring of each other, and support for many worthy local causes.
If you are looking for a caring, welcoming place to worship, please come and meet us.
Our Mission Statement:
"Showing the love of Jesus together in welcoming
all people into the fellowship of the church as well
as ministering to the community"
Wavell Heights Uniting Church
147 Rode Road, Wavell Heights, 4012
 Geebung Congregation Combining at Wavell
Service Time:   Sunday 8:00am 
 *****
Geebung Uniting Church
59 Simla Avenue,  Geebung, 4034
Wavell Height Congregation Combining at Geebung
Service Time: Sunday   10:00 am
*****
*****

Christian Fellowship Church
Wavell Heights Uniting Church  Sunday 10:30pm
 *****

Tongan Wesleyan Methodist Church
Geebung Uniting Church  Sunday 1:00pm
*****
Free Wesleyan Church of Tonga in Brisbane
Meeting at Wavell Heights Uniting Church
Sunday 3:00pm
*****
Visit Us on Facebook  
Wavell Heights UCA
  
Geebung UCA